Watch the trailer for Counterpart Season 2 Episode 3. 
I have a secret to tell you. What you see in the trailer isn't anything compared to what's in the photographs for "Something Borrowed."
Showing them to you would be tantamount to treason, as far as I'm concerned — horrible, spoilery treason.
Here's what we know so far.
Howard Alpha is on his way to Echo, a mysterious prison on the other side. That's occurring because of an order given to the interrogator who had been working with Howard and who is in cahoots with Mira, the Indigo School terrorist who kills rather than listens.
Related: Counterpart Review: Outside In
All of that came to the forefront during Counterpart Season 2 Episode 2. You'd best be watching because this show is incredible.
What we don't know? Everything else. What is Echo? Why are so few sent there? How often do people check in with Echo prisoners who are there?
We will find at least one prisoner at the facility that will knock our socks off.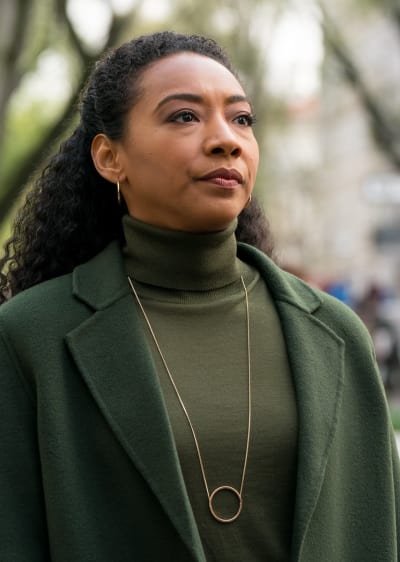 For the first time during Counterpart Season 2, we will spend time in both worlds, visiting not only with Howard Alpha and his horrors but with Howard Prime taking over his life on "our" side.
He and Emily Alpha are growing closer. How much closer?
Related: Justin Marks on Counterpart Season 2 and Seriousness of Violence
It's been pretty darn difficult to find out how Emily A feels about things when the only person she's talking to outside of her therapist — someone she doesn't want to alarm for fear she's on her way to the looney bin — is Howard P.
That's about to change, as the trailer shows Naya will be paying her a visit to chat about what she's been feeling and probably to see what she remembers about her life and work pre-coma.
Counterpart has proven itself to be thrilling and provocative as well as quite thought-provoking, forcing you to think about the decisions you've made in your life that could have been altered just a bit to take you on a much different trajectory.
Will Emily A realize before she's told that Howard P is walking in her husband's shoes? After all, she did know both of them personally.
Related: Get Starz via Prime Video Channels for Captivating Original Series & Hit Movies!
Who will Howard meet in Echo and how will he ever find his way out? More importantly, why does it suddenly seem imperative for him to have whiter, brighter teeth? Kidding, but it does look like he's receiving a beauty treatment.
If you aren't watching Counterpart yet, what's wrong with you? Seriously. I need to know. You can watch Counterpart online to be ready for this one!
Meet back here Sunday night for a full review of the episode and hopefully, a discussion.